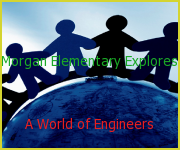 1410 37th Street
Galveston, TX 77551
(409) 761-6700
Fax: (409) 764-0122
Para ver este sitio web en español, haga clic en el pescado en la parte inferior de la página.
We are now on Twitter - Follow us!
Morgan had its annual, "Robotics Parent Night" on April 25 in the school's library. This event allowed the parents to share in the same enthusiasm that their kids experience in the robotics classroom. Morgan's Robotics program helps to prepare students for the eventual workforce by building skills such as collaboration, creativity, and problem-solving while making science, technology, engineering, and mathematics FUN.

Each grade level showcased the projects they created in their Robotics class throughout the school year. Parents also got hands-on experience with some of the many concepts that their children have come to learn and put into practice: simple machines, measurements, physics, sensors, software, technology, engineering, inventions, creativity, teamwork, competition, and fun. They got an opportunity to participate in a contest that showcased their building skills and the winner of the machine built in the least amount of time won Lego kits (donated by Lego's ®). Also, the parents and students entered to win motorized "Robo-Man" for the door prize. At the end of the event parents enjoyed the cake and drinks sponsored by the school's Parent-Teacher Organization (PTO).

The event was a great success and enjoyed by all in attendance. Morgan Robotics like to thank our PTO secretary, Ms. Selva Pedro, and Magnet team for their support in making the event successful.
| | | |
| --- | --- | --- |
| | | |
| | Morgan Celebrates Earth Day | |
| | | |




On Monday, March 22 nd , students and teachers celebrated Earth Day in L.A. Morgan's Garden. Reading stations were set up to allow students the opportunity to understand how Earth Day began. Then students rotated through various art and fun time stations such as painting pet rocks, creating Earth Day pins to wear, and even a seed planting station where students were able to take home a seed they planted themselves. After cooling off with fruit cups and juice donated by the Galveston County Food Bank, students were able to have their faces painted with an image that evoked Earth Day awareness. A special "thank you," from students at L.A Morgan to the parents who came to volunteer their time within each station. Hand in Hand, Together We Can!

3rd Grade Student, Miguel, shows off his face painting of a crocodile. He wanted a crocodile because he knows we have to protect the waters and land where the crocodiles live.

"We find success in each one, some way, everyday by developing successful students for tomorrow starting today."

The mission of Morgan Elementary School is to encourage, empower, and expect each student to become a responsible citizen in our local, national, and global society. Each student will be provided with a challenging and dynamic educational program that will develop intellectual, social, emotional, and physical growth in a positive and supportive environment.

Parents now have the ability to monitor their child's grades and attendance online through Skyward Family Access. For more information, click here .